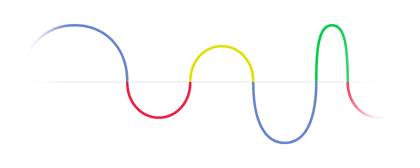 Google Doodle today (February 22, 2012) in New Zealand, Indonesia, Australia, Nederland, Germany, Sri Lanka, Belgium, Qatar, Kuwait, ect come with a theme Heinrich Rudolf Hertz's 155th Birthday. Looks like a graphic image that moves up and down and do not form the word "google" as shown in the picture above. And the picture above illustrates the radio waves, which are the findings Heinrich Rudolf Hertz.
Who is Heinrich Rudolf Hertz?
Heinrich Rudolf Hertz (February 22, 1857 – January 1, 1894) was a German physicist who clarified and expanded the electromagnetic theory of light that had been put forth by Maxwell. He was the first to satisfactorily demonstrate the existence of electromagnetic waves by building an apparatus to produce and detect radio waves. The unit for frequency is named after him.

Hertz was born in Hamburg, Germany, into a prosperous and cultured Hanseatic family.
His father, Gustav Ferdinand Hertz, was a writer and later a senator.
His mother was the former Anna Elisabeth Pfefferkorn.
His paternal grandfather David Wolff Hertz (1757-1822), fourth son of Benjamin Wolff Hertz, moved to Hamburg in 1793 where he made his living as a jeweller.

He and his wife Schöne Hertz (1760-1834) were buried in the former Jewish cemetery in Ottensen. Their first son Wolff Hertz (1790-1859), was chairman of the Jewish community. His brother Hertz Hertz (1797-1862) was a respected businessman.
He was married to Betty Oppenheim, the daughter of the banker Salomon Oppenheim, from Cologne. Hertz converted from Judaism to Christianity and took the name Heinrich David Hertz.

Biography of Heinrich David Hertz



Born February 22, 1857(1857-02-22)
Hamburg, Germany
Died January 1, 1894(1894-01-01) (aged 36)
Bonn, Germany
Residence Germany
Nationality German
Fields Physics
Electronic Engineering
Institutions University of Kiel
University of Karlsruhe
University of Bonn
Alma mater University of Munich
University of Berlin
Doctoral advisor Hermann von Helmholtz
Known for Electromagnetic radiation
Photoelectric effect

source wikipedia, google.